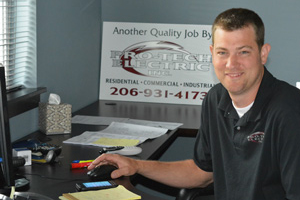 Nick Dammann
President/General Manager
Graduated from Mitchell Technical Institute in 2000 with a AAS degree in Electrical Construction and Maintenance. In 2006 myself and Stacy started Pro-Tech Electric, Inc which has been successfully growning and expanding over the last 10 years to 15 employees today.


Stacy Dammann
Treasurer/Office Manager
Studied Accounting and business management at Clark College. Working in bookkeeping for the last 18 yrs. Has helped grow Pro-Tech Electric Inc along with raising two children.